I haven't read many mystery novels lately. While I enjoy a good mystery, I've really moved away from the genre because they usually don't have much character development. I was pleasantly surprised with The Witch in the Well by Sharan Newman, however. This is the tenth in the "Catherine LeVendeur" mystery series by Newman. I have not read any of the previous books in the series, stumbling on this quite by accident at the library, just picking it off the shelf when I was browsing one day. It was a fun, quick read, a nice little mystery and a most interesting setting. Catherine LeVendeur is a twelfth century French woman, and Sharan Newman's background as a medieval scholar shines in this venue.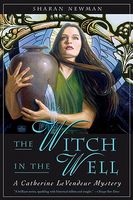 Here's a quick synopsis: Catherine is a former novitiate, smart and sassy, now married to a Scotsman named Edgar with only one hand. Edgar's business partner is Catherine's Jewish cousin, Solomon (although the cousin part is a secret.) Her brother, Guillaume, is a Lord with many responsibilities. They receive a desperate plea from their grandfather, begging them to come to his castle for help. The entire family must come as all descendants are needed. Her sister, Agnes, married to a wealthy German, meets them at the Castle Boisvert, and so does Catherine's mother, who has been in a convent for the past few years because of mental illness. At Boisvert, they discover that not a single child has been born in the castle in almost 20 years, and that is just the beginning of the problems. There's a murder and an invading army on the way and it just gets better from there.
I'm quite eager to read more of this series, because I loved these characters and all their complex relationships. Catherine's siblings and cousins and husband and in-laws and servants all play critical roles in the story and their interrelationships add to the complexity of each character.
The plot itself is typical of most mystery novels—unbelievable and forgettable. (It's not been a month since I finished the book and I had to skim through it to remember what happened before I wrote the review!) Add in that the mystery is about a cursed castle and a spirit woman living down in a well and… You get the idea. But don't let that deter you from reading, because I did find the setting, characters, story and writing style very entertaining.
Crack Factor – 8. A great, fun, quick read.
Enrichment Factor – 9. Newman gets a lot of critical praise for being well researched. As a professor of medieval studies, she should know what she's talking about. Medieval French life is well described through the eyes of these characters, so it's quite a unique and engaging time and place for a mystery or two…
PeopleFactor – 9.75. I HATE finishing a book when I love the characters. I am so glad Newman has nine other books where I can find these characters again.
Story Telling Factor – 8.
Writing Skills Factor – 8.5. For a mystery writer, she's pretty fab.
Bad Ass Babe Factor – 8.5. The female characters in this book are strong and smart, especially when you consider they're living in Medieval France. Part of me finds this fact a little unbelievable, but I wouldn't want to read it if they were passive and boring, so for literary purposes, it's perfect.
Hotter than Adam Factor – 8.5.
Not many books get HTAF ratings---but this one will. Edgar, Catharine's husband is pretty wow. He gets an 8.5 at least. The relationship between Edgar and Catherine is supportive, loving and passionate. Edgar is a serious tough guy, despite having only one hand. (Apparently I have to read one of the previous books to know the details on that story…) Solomon, Catherine's Jewish cousin and Edgar's business partner, also gets an 8.5.
Total Rating: 8.6